Educate Yourself About the Signs and Symptoms of a Hangover
it's not corona it's the vodka sweetie
Americans are drinking more than ever…alcohol sales are up 75% over this time last year INCLUDING bar sales. My friend and talented director and producer friend, Jessica Rionero, has turned me onto cocktail delivery. Eater has an LA list and Guest of a Guest has a NYC list.
---
From 1894 until the last known US case in 1979, polio was the most feared viral disease for most Americans. During the worst outbreak in 1952, 60,000 children were infected in a single year. Every day this week, I'll post about a notable person who survived the deadly and paralyzing virus. Today: Dorothea Lange.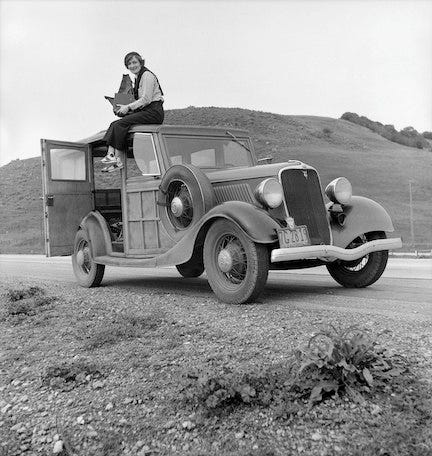 The American photojournalist, best known for her iconic 1936 photo, Migrant Mother, suffered from polio beginning when she was 7. The disease left her with a limp and withered her right leg. Of her experience, Lang said, "It was perhaps the most important thing that happened to me. It formed me, guided, instructed me, helped me, and humiliated me. All those things at once. I've never gotten over it and am aware of the force and power of it." Below is one of my favorite photos of hers: Pledge of Allegiance, Raphael Weill Elementary School, San Francisco (1942), which embodies some of my feelings about America right now. More can be seen here. More at Google Arts & Culture.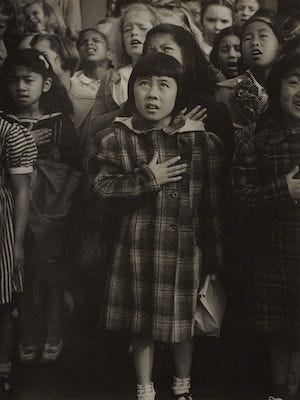 ---
Try shit. I think now's the time to just try things in your kitchen you've never tried before. Eat pancakes for breakfast. Buy ponzu sauce. Figure out wtf make with a jackfuit. Last week I made almond cookies and they turned out pretty damn great! This week, I'm going to try this matcha chiffon cake. Bon Appetit is killing it right now and people are raving about this chicken and dumplings recipe that will take you literally all day to make.

Ina Garten is too relatable right now. "I like to make a big pitcher. You never know who's stopping by. Wait. No one's stopping by."

Walking for exercise. Since the parks are closed and I don't have a home gym, I checked this Walking L.A. e-book from the library. Many of the walks are in my neighborhood and I want to do all of the ones in the vicinity for exercise. LA has many hidden staircases and I highly recommend Eastsiders checking out this site to find out ones near you. This 177 step monstrosity in Beachwood beat my ass today. If you're not in LA, I seriously recommend looking for neighborhood walking guides online or checking out an ebook for your city. You can also use the Atlas Obscura "near me" feature to find awesome quirky oddities you can walk to in your neighborhood.

Follow rec: Follow @TheDisneyDelete which dredges up hilarious old cringey content, merch, and WTF that the Disney corporation would rather us forget about.

Cheaters. For weeks I had been wondering out loud what the sidepieces, "other women" and boytoys were going to do during the quar-times. Well, "I'm Having a Lifesaving Affair, but Social Distancing Is Keeping Us Apart," on Slate's How to Do It advice column from someone writing in as "Swelter in Place." The goose is cooked. No affair is "lifesaving," unless her puss is made of the vaccine for Covid-19.

I'm having a wonderful affair with a man. We're both married, but we're careful and responsible—it's what we both need to survive in our marriages, and it's what's best for both of us…The problem is social distancing because of the coronavirus. Our spouses and kids are now both home full time, and getting away to see each other has been impossible. I'm miserable without the sex and companionship, and so is the man I'm seeing. At one point, he suggested meeting in our cars by the grocery store. I obviously declined. Then today, he called me and said to go to my window and waved to me from his car (we live about two neighborhoods apart). I was moved by the gesture, but it worried me. I feel like I am on the verge of doing something risky

Nature. My friend Tyler Mercer, the artistic director of Live Source Group, an awesome NYC theater company, sent me more nature thriving.

Celebs

I told you all on March 20 that Ana De Armas and Ben Affleck was a FAKE relationship. Today, here's a video of Ana saying "okay we're ready" to a wall of paparazzi outside her house, as she holds hands with Ben Affleck. The paps are also not 6 feet apart… This is so messy.

Things I'm not buying in addition to toilet paper…Prince Harry claims he wants to go back to the army to help pandemic relief as an NHS ambulance pilot. Weird time to move into a $20 million Malibu mansion if true.

I don't know why but this interview with my favorite landlords Kristen Bell and Dax Shepard makes me uncomfortable. I get that they're trying to be "real" with the supposed *work* that people say marriage requires. I just feel like the Dax & Kristen are *working on their marriage* story resurfaces via them

"We're getting along good with the kids and we're getting along good with adults we're friends with. This has been stressful for momma and dada," Shepard admitted, with Bell agreeing, "We've been at each other's throats real bad, real bad. The two even admitted that sitting next to one another for the interview was "as physically close as we've been in a couple of days 'cause we've just found each other revolting."